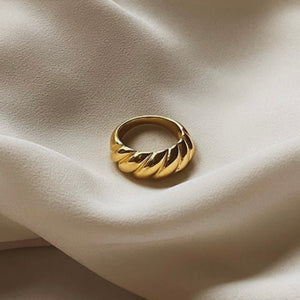 The Paris Ring by With Grey
Part of our 18K SS Collection - Tarnish-free, sweat and water resistant! 
 
Metal: Stainless Steel
Plating: 18K Gold PVD
US Ring Sizing: 6, 7, 8
 
All of our Stainless Steel pieces are lead and nickel free.
Learn more about the materials

Stainless Steel is a highly durable metal that does not rust or tarnish. The 18K SS pieces feature 316L Stainless Steel plated with a thick 18K gold layer using an environmentally-friendly vacuum coating process called Physical Vapor Deposition (PVD). PVD makes the gold plating highly durable and is scratch, sweat and water resistant.

Conventional gold plating can wear away in a matter of months with wear, especially when exposed to water. PVD Gold Stainless Steel can maintain its shine and colour for several years with proper care.

Care

18K SS jewelry can last for several years when cared for properly. It will not oxidize by air alone, but may react to certain substances.

 

Care Guide:

Certain chemicals may react with the special coating so it is suggested to AVOID direct contact with beauty products such as perfume, hairspray, makeup, detergents, household cleaners, etc. to keep your pieces pristine. SAFE for hand washing (avoid hand sanitizer), showering/bathing and exercising (e.g., sweat resistant). For longevity, we suggest you do not wear your pieces in chemically treated water (e.g., chlorinated pools). NO salt water. CLEAN with warm slightly sudsy water using a very small amount of mild soap. Rinse clean to remove any soap residue and dry with a soft cloth. Never use jewelry cleaner.