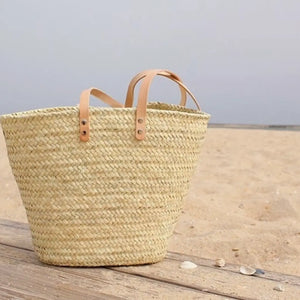 Small French Market Tote
Handmade, this straw bag was made with palm leaves. Long double handles made. Wear it with your favourite dress, very versatile, with all the Mediterranean summer style.

This bag is handwoven in Morocco of sustainable palm leaves. Materials: palm leaves, leather. Size: 

Note: These products are entirely handmade, for that reason the product may feature inconsistencies or slight flaws and there also may be variations in design, size and color. These are signs that the product wasn't mass produced.

Made in Morocco. 
8" wide
9" tall 
6" wide 
13" opening at the top